from
design
to
manufacturing
easyCAD insole is a modeling software 3D CAD for the design and realization of orthotics. It supports the creation of orthosis computerized plantars, starting from the design phase up.
The extremely powerful and professional performance together with its simplicity of use, allow easyCAD Insole to be the perfect combination of orthopedic traditional technique and the modern technology of milling and 3D printing.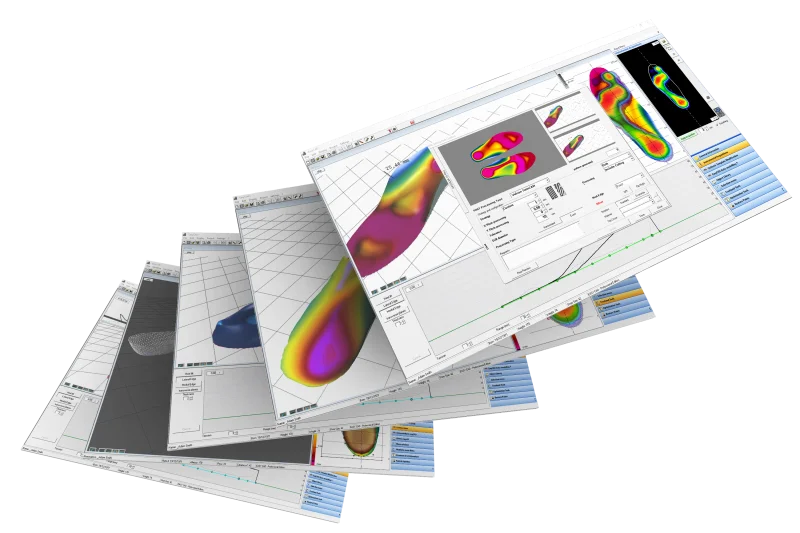 The development of self-modeling tools, the default object library and templates, allow the simplification of the process of design, thus improving the professional workflow in the various stages of production.
HOW
EASYCAD
INSOLE
IMPROVES
YOUR
WORK
easyCAD Insole manages a complete archive of patients and their projects. It allows easy data transmission among the various sharpened production centres associating each individual project with the relevant data sheet and compliance form and allows autonomous management of materials and coatings. Contains a complete instrumentation to draw, modify and customize the sets of templates and the development of ready-made models. easyCAD Insole imports automatically all analyses made through freeStep, ensuring full compatibility with all analysis systems of Sensor Medica.
COMPATIBLE
SYSTEMS
OF
ANALYSIS
Podoscan 2D and 3D
FreeMed baropodometry platforms
Treadmill Runtime
Podoscan 2D and 3D with STL export, baropodometry platforms with raw data export 3D MILLING AND PRINTING SYSTEMS
CNC Vulcan end mills
General-purpose end mills compatible with ISO-GCODE standard
3D printers
Patient and project database management
Database LAN sharing
Archive of materials and coatings
User-friendly design interface
3D rendering in real time
Native libraries with 9 orthotic templates
Native libraries with 15 orthotic corrective insoles templates
Template library, insoles and elements customizable
Automatic numbered creation for templates and insoles
Quick modeling of 3D foot images
Self-modeling functions by design quick from pressure analysis even without the use of 3D scanners
Freehand drawing tools
Design through the library of prepared elements
Automatic thickness correction minimum and maximum
Automatic development tools of models and customized templates
Direct import from 2D scanners,3D scanner and baropodometric platforms compatible
Automatic compilation and printing of the technical data sheet of the project
Integrated machine path generator: no other software needed
Toolpath export in formats ISO G-CODE, Isel NCP, XYZ, STL